Products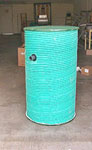 WASTEWATER TREATMENT
We're ready for the future in Wastewater applications. With the innovative technology on the rise for onsite treatment of wastewater, we are a manufacturer's distributor for wastewater treatment systems that are consistent and reliable for residential and commercial projects. We work with engineers, designers and contractors to have a successfully completed project and offer innovative and economical services that meet the needs on projects of all sizes and special design satisfactorily. Did we also mention our Low Prices?

PRODUCT SELECTION
All of the lines that we carry meet our high expectations for quality. No matter what type of pump you are looking for, Bob Bartley Pump Inc. has you covered. We offer a complete line of products from the most trusted manufacturers in the world, including Goulds Pumps, Barnes Pumps, Orenco Systems, Fairbanks Morse Pumps, Custom Pump Control Panels and more!